Swiss dentures, as the name would suggest, are manufactured and designed in Switzerland. There are many different types of Swiss denture but they all have a similar aim, which is to eliminate many of the problems associated with traditional dentures. Many people associate dentures with bulky, ugly sets of false teeth but this is not the case. Modern dentures are light, functional and comfortable, and they enable people to be able to benefit from having a functional, attractive set of teeth once their own teeth have been lost, either through damage, decay or injury.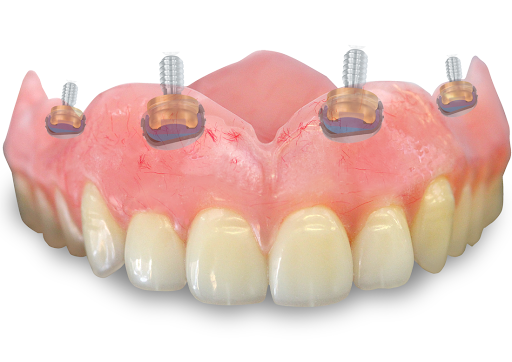 Why are Swiss dentures special?
Switzerland is renowned for excellent quality and has a reputation for being forward thinking and progressive in the fields of science, dentistry and medicine. Swiss dentures have been developed to provide maximum comfort and functionality. They are lighter than most conventional dentures and offer greater comfort. They have also been proven to help chewing as the dentures generate more force than other dentures.
Swiss dentures are manufactured according to a unique pestle and mortar design, which helps to improve the fit and comfort of the dentures. They are custom-made for each individual patient and consequently fit the contours of the mouth perfectly. Swiss dentures are also very natural looking and create an attractive aesthetic.
Who can benefit from Swiss dentures?
Swiss dentures are most beneficial for people who have already worn dentures. Unlike traditional dentures, which change shape and become loose as the shape of the mouth changes, Swiss dentures are custom-designed to create the perfect fit. Swiss dentures use a different mechanism to stay in place, which prevents the denture from coming loose and provides patients with the assurance and peace of mind that their denture will never come loose or fall out. Swiss dentures are also suitable for people who have not worn dentures before.
How much do Swiss dentures cost?
Swiss dentures are very highly regarded and you can rest assured that you are paying for high quality, durable dentures. Swiss dentures are more expensive than some types of denture but they represent value for money when you take the numerous benefits into consideration. The cost of the treatment will vary according to the treatment process, the dental professional you choose and the health centre you visit. Some clinics charge higher rates than others and you can expect to pay a premium for dentists who have significant experience and expertise. As a general guide, you can expect to pay upwards of £1,400 for Swiss dentures.